Specifications
Engine

Electrical System

*1 ex factory
CAUTION:
When cleaning the iridium plugs, do not use a wire brush.
(2.5-liter engine) The fine particulate coating on the iridium alloy and platinum tips
could be damaged.
(3.7-liter engine) The fine particulate coating on the platinum alloy could be damaged.
Lubricant Quality

Capacities
(Approximate Quantities)

Check oil and fluid levels with dipsticks or reservoir gauges.
Dimensions

Weights
2.5-liter engine
Manual transaxle

Automatic transaxle

3.7-liter engine

Air Conditioner

Light Bulbs
Exterior light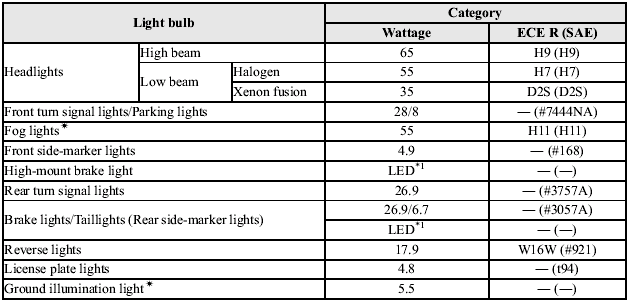 *1 LED is the abbreviation for Light Emitting Diode.
Interior light

Tires
NOTE:
- The tires have been optimally matched with the chassis of your vehicle.
When replacing tires, Mazda recommends that you replace tires of the same type originally fitted
to your vehicle. For details, contact an Authorized Mazda Dealer.
- When changing tires extra care must be taken to be sure the TPMS is working.)
Check the tire pressure label for tire size and inflation pressure.
Refer to Tire Inflation Pressure.
Standard tire

Temporary spare tire

Fuses
Refer to the fuse rating.
See also:
Towing Description
We recommend that towing be done only by an Authorized Mazda Dealer or a commercial tow-truck service. Proper lifting and towing are necessary to prevent damage to the vehicle. Government and l ...
Break-In Period
No special break-in is necessary, but a few precautions in the first 1,000 km (600 miles) may add to the performance, economy, and life of your Mazda. - Don't race the engine. - Don't maintain on ...
Antenna
Detachable Type To remove the antenna, turn it counterclockwise. To install the antenna, turn it clockwise. Make sure the antenna is securely installed. Type A Type B CAUTION: To prevent ...