Wiper Blades
CAUTION:


Hot waxes applied by automatic
car washers have been known to affect the wiper's ability to clean windows.

To prevent damage to the wiper
blades, don't use gasoline, kerosene, paint thinner, or other solvents on or near them.
Contamination of either the windshield or the blades with foreign matter can reduce wiper effectiveness. Common sources are insects, tree sap, and hot wax treatments used by some commercial car washes.
If the blades are not wiping properly, clean the window and blades with a good cleaner or mild detergent; then rinse thoroughly with clean water. Repeat if necessary.
Replacing Windshield Wiper Blades
When the wipers no longer clean well, the blades are probably worn or cracked.
Replace them.
CAUTION:
To prevent damage to the wiper arms and other components, don't try to sweep the wiper arm by hand.
NOTE:
To prevent damage to the wiper arm blades when raising both the driver and passenger side wiper arms, raise the driver side wiper arm first. Conversely, when setting down the wiper arms, set the passenger side wiper arm down first.
1. Raise the wiper arm.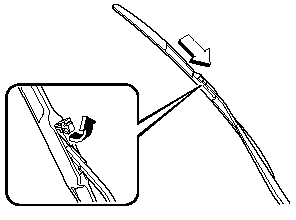 2. Open the clip and slide the blade assembly in the direction of the arrow.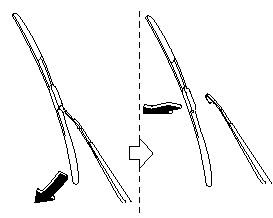 3. Tilt the blade assembly and remove it from the arm.
CAUTION:
To prevent damage to the windshield let the wiper arm down easily, don't let it slap down on the windshield.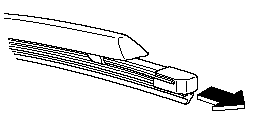 4. Pull down the blade rubber and slide it out of blade holder.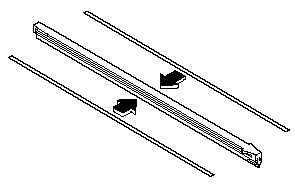 5. Remove the metal stiffeners from each blade rubber and install them in the new blade.
CAUTION:


Don't bend or discard the
stiffeners. You need to use them again.

If the metal stiffeners are
switched, the blade's wiping efficiency could be reduced.
So don't use the driver's side metal stiffeners on the passenger's side, or vice versa.

Be sure to reinstall the metal
stiffeners in the new blade rubber so that the curve is the same as it was in the old blade rubber.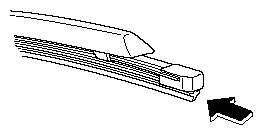 6. Carefully insert the new blade rubber.
Then install the blade assembly in the reverse order of removal.
See also:
Vehicle Information Labels
Vehicle Identification Number The vehicle identification number legally identifies your vehicle. The number is on a plate attached to the cowl panel located on the left corner of the dashboard. ...
Vent Operation
Vent Operation Adjusting the Vents Directing airflow Side Vents To adjust the direction of airflow, open the vents and rotate them left and right. Center Vents To adjust the direction of ...
Automatic Transaxle Controls
Various Lockouts: Indicates that you must depress the brake pedal to shift (The ignition switch must be in the ON position). Indicates the shift lever can be shifted freely into any position. ...