Antenna
AM/FM Radio Antenna
The rear window antenna receives both AM and FM signals.
CAUTION:
When washing the inside rear window, use a soft cloth dampened in lukewarm water, gently wiping the antenna lines.
Use of glass cleaning products could damage the antenna.
Satellite Radio Antenna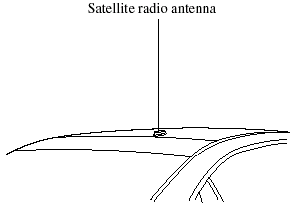 The satellite radio antenna receives SIRIUS signals.
See also:
Flat Tire
Either run-flat tires or conventional tires are equipped on your Mazda depending on the specification, therefore the procedure for repairing a flat tire differs depending on the type of tire. Befo ...
Engine Exhaust (Carbon Monoxide)
WARNING: Do not drive your vehicle if you smell exhaust gas inside the vehicle: Engine exhaust gas is dangerous. This gas contains carbon monoxide (CO), which is colorless, odorless, and poisonou ...
Mazda2 2009 review
The 2011 Mazda2 may very well be the cutest car I've driven to date. Despite its more than adorable look, the Mazda2 and I took a few days to get to know each other. Upon my first drive, I have to ...