Turn and Lane-Change Signals
Turn Signal
Move the signal lever down (for a left turn) or up (for a right turn) to the stop position. The signal will self-cancel after the turn is completed.
If the indicator light continues to flash after a turn, manually return the lever to its original position.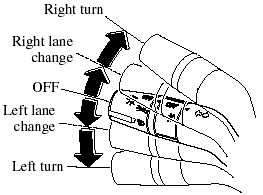 Green indicators on the dashboard show which signal is working.
Lane-change signals
Move the lever slightly toward the direction of the change ―until the indicator flashes― and hold it there. It will return to the off position when released.
NOTE:
- If an indicator light stays on without flashing or if it flashes abnormally, one of the turn signal bulbs may be burned out.
- A personalized function is available to change the number of flashes.Refer to Personalization Features.
- A personalized function is available to change the turn indicator sound volume.Refer to Personalization Features.
See also:
Emission Control System
Your vehicle is equipped with an emission control system (the catalytic converter is part of this system) that enables your vehicle to comply with existing exhaust emissions requirements. WARNING ...
Improved Straight-Line Stability and Less Vibration
New suspension components for the facelift Mazda 6 are introduced to provide better overall handling stability, great steering response and less vibration. The high-mount double wishbone front sus ...
Before Driving Your Mazda
Important information about driving your Mazda. ...