Hood
WARNING:
Always check that the hood is closed and securely locked:
A hood that is not closed and securely locked is dangerous as it could fly open while the vehicle is moving and block the driver's vision which could result in a serious accident.
Opening the Hood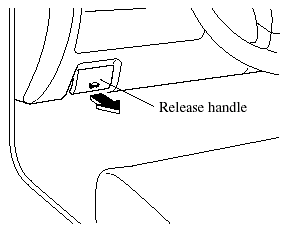 1. With the vehicle parked, pull the release handle to unlock the hood.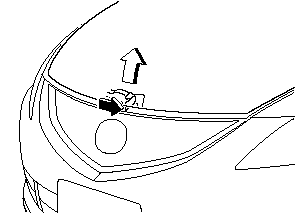 2. Insert your hand into the hood opening and slide the hood latch lever to the right and lift the hood.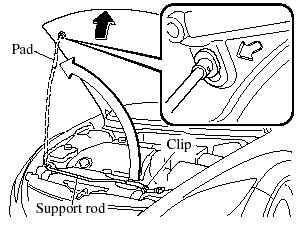 3. Grasp the support rod in the padded area and secure it in the stay hole indicated by the arrow to hold the hood open.
Closing the Hood
WARNING:
Do not leave items in the engine compartment:
After you have finished checking or doing servicing in the engine compartment, do not forget and leave items such as tools or rags in the engine compartment.
Tools or other items left in the engine compartment could cause engine damage or a fire leading to an unexpected accident.
1. Check under the hood area to make certain all filler caps are in place and all loose items (e.g. tools, oil containers, etc.) have been removed.
2. Insert the support rod in its clip while holding up the hood. Verify that the support rod is secured in the clip before closing the hood.
3. Close the hood so that it locks securely.
See also:
Starting a Flooded Engine
If the engine fails to start, it may be flooded (excessive fuel in the engine). Follow this procedure: 1. If the engine does not start within five seconds on the first try, turn the key to the LO ...
Rear Window Defroster
The rear window defroster clears frost, fog, and thin ice from the rear window. The ignition must be switched ON. Press the switch to turn on the rear window defroster. The rear window defroster ...
Audio Control Switch Operation
When the audio unit is turned on, operation of the audio unit from the steering wheel is possible. NOTE: Because the audio unit will be turned off under the following conditions, the switches wil ...