SeatWarmer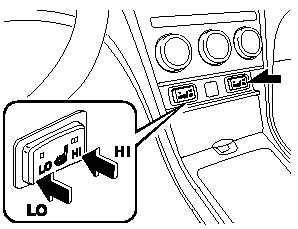 Press the HI or LO side of the seat warmer switch with the ignition is switched ON.
The indicator on the switch illuminates and the seat warms up.
If a higher temperature is preferred, press the HI side of the switch, and for a lower temperature, press the LO side.
When not using the seat warmer, set the switch to neutral with neither HI or LO depressed.
WARNING:


Be careful when using the seat
warmer. The heat from the seat warmer may be too hot for some people, as indicated below, and could cause a low-temperature burn.

Infants, small babies, elderly
people, and physically
challenged people.

People with delicate skin.

People who are excessively
fatigued.

People who are drunk.

People who have taken sleepinducing
medicine such as
sleeping pills or cold medicine.

Do not use the seat warmer with
anything having high moistureretention ability such as a blanket or cushion on the seat. The seat may be heated excessively and cause a low-temperature burn.

Do not use the seat warmer even
when taking a short nap in the vehicle. The seat may be heated excessively and cause a lowtemperature burn.

Do not place heavy objects with
sharp projections on the seat, or insert needles or pins into it. This could cause the seat to become excessively heated and result in injury from a minor burn.
CAUTION:
Do not use organic solvents to clean the seat. It may damage the seat surface and the heater.
NOTE:
Use the seat warmer when the engine is running, and do not continue to use it for a long period of time.
The temperature of the seat warmer cannot be adjusted beyond High and Low because the seat warmer is controlled by a thermostat.
See also:
Interior
Up to five people can fit inside the Mazda3. The steering column tilts and telescopes. Instruments sit in a trio of round, recessed nacelles. A ratchet-type mechanism permits seat adjustment allow ...
Interior Comfort
Use of various features for drive comfort, including air-conditioning and audio system. ...
Single-Nano Technology Catalyst for all Petrol Engines
Part of the eco-evolution of Mazda powertrains includes the introduction of a unique catalyst developed by Mazda for its petrol engines. Traditional catalysts have precious metals that cause chemi ...