Power Steering Fluid
Inspecting Power Steering Fluid Level
CAUTION.
To avoid damage to the power steering pump, don't operate the vehicle for long periods when the power steering fluid level is low.
NOTE.
Use specified power steering fluid.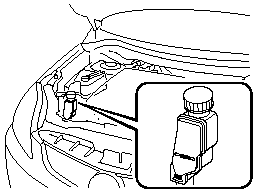 Inspect the fluid level in the reservoir at each engine oil change with the engine off and cold. Add fluid if necessary; it does not require periodic changing.
The level must be kept between MIN and MAX.
Visually examine the lines and hoses for leaks and damage.
If new fluid is required frequently, consult an Authorized Mazda Dealer.
See also:
Highway Driving
On the highway is where you'll notice you're driving a small, light car, and that's not always a great thing. Right off, there was fair amount of road noise, and passengers noticed a lot of wind n ...
Fuses
Your vehicle's electrical system is protected by fuses. If any lights, accessories, or controls don't work, inspect the appropriate circuit protector. If a fuse has blown, the inside element will ...
Registering Your Vehicle in A Foreign Country (Except United States and Canada)
Government regulations in your country could require that automobiles meet specific emission and safety standards. Vehicles built for your country may differ from those built for other countries. ...