Rear WindowWiper and Washer
The ignition switch must be in the ON position.
Rear WindowWiper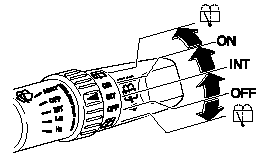 Turn the wiper on by turning the rear wiper/washer switch.
ON - Normal.
INT - Intermittent.
Rear WindowWasher
To spray washer fluid, turn the rear wiper/ washer switch to the

position. After
the switch is released, the washer will stop.
If the washer doesn't work, inspect the fluid level. If it's OK and the washer still doesn't work, consult an Authorized Mazda Dealer.
See also:
Fuel Requirements
Vehicles with catalytic converters or oxygen sensors must use ONLY UNLEADED FUEL, which will reduce exhaust emissions and keep spark plug fouling to a minimum. Your Mazda will perform best with fu ...
Before Getting In
l Be sure the windows, outside mirrors, and outside lights are clean. - Inspect inflation pressures and condition of tires. - Look under the vehicle for any sign of fluid leaks. - If you plan to ...
Overheating
If the temperature gauge indicates overheating, the vehicle loses power, or you hear a loud knocking or pinging noise, the engine is probably too hot. WARNING: Turn off the ignition switch and ...