Turn and Lane-Change Signals
Turn Signal
Move the signal lever down (for a left turn) or up (for a right turn) to the stop position. The signal will self-cancel after the turn is completed.
If the indicator light continues to flash after a turn, manually return the lever to its original position.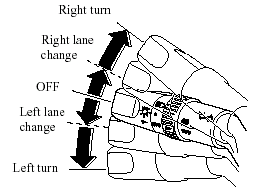 Green indicators on the dashboard show which signal is working.
Lane-change signals
Move the lever slightly toward the direction of the change - until the indicator flashes - and hold it there. It will return to the off position when released.
NOTE.
If an indicator light stays on without flashing or if it flashes abnormally, one of the turn signal bulbs may be burned out.
See also:
Interior Equipment (View A)
1. Door-lock knob. 2. Power door lock switch. 3. Headlight leveling switch. 4. TCS-OFF switch. 5. DSC OFF switch. 6. BSM OFF switch. 7. Lighting control. 8. Turn and lane-change signals. 9. ...
How to Use This Manual
We want to help you get the most driving pleasure from your vehicle. Your owner's manual, when read from cover to cover, can do that in many ways. Illustrations complement the words of the manual ...
Operation Using Advanced Key Functions
qKeyless Entry System This system uses the more traditional keyless entry buttons to remotely lock and unlock the doors and opens the trunk lid, and opens the power windows. It can also help you ...