Power Steering Fluid
qInspecting Power Steering Fluid Level
CAUTION:
To avoid damage to the power steering pump, don't operate the vehicle for long periods when the power steering fluid level is low.
NOTE:
Use specified power steering fluid.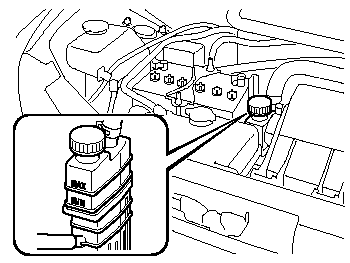 Inspect the fluid level in the reservoir at each engine oil change with the engine off and cold. Add fluid if necessary; it does not require periodic changing.
The level must be kept between MIN and MAX.
Visually examine the lines and hoses for leaks and damage.
If new fluid is required frequently, consult an Authorized Mazda Dealer.
See also:
Beep Sounds
Seat Belt Warning Beep If the driver's seat belt is not fastened when the ignition switch is turned to the ON position, a beep sound will be heard for about 6 seconds. If the driver's seat belt i ...
Tire Pressure Monitoring System
* Some models. The tire pressure monitoring system (TPMS) monitors the pressure for each tire. If tire pressure is too low in one or more tires, the system will inform the driver via the warnin ...
Comfort and Ease-of-Use
The cabin of the Mazda MX-5 facelift model offers enhanced comfort. The door cupholders, for instance, do not protrude into the cabin anymore, which provides more space to the occupants' legs. The ...