Tiedown Hooks
CAUTION:
Don't use the tiedown hooks under the front and rear for towing.
They are designed ONLY for tying down the vehicle when it's being transported. Using them for towing will damage the bumper.
Tiedown Hooks
1. Remove the tiedown eyelet, lug wrench, and jack lever from the trunk.
2. Wrap the jack lever with a soft cloth to prevent damage to a painted bumper, and open the cap located on the front or rear bumper.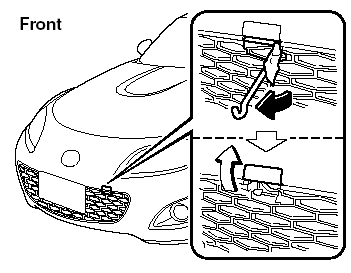 Type A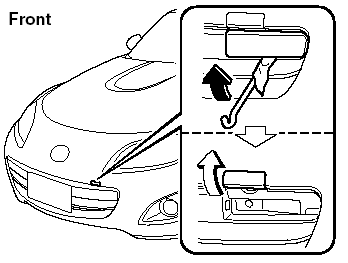 Type B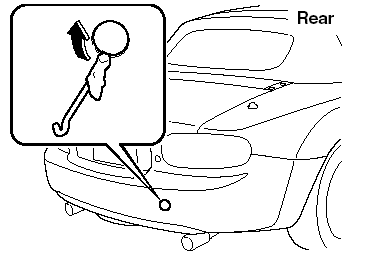 CAUTION:


Do not use excessive force as it
may damage the cap or scratch the painted bumper surface.

The rear bumper cover cannot be
removed completely. Attempting to forcefully remove the rear bumper cover could result in it being damaged.
NOTE:
Remove the front bumper cover completely and store it so as not to lose it.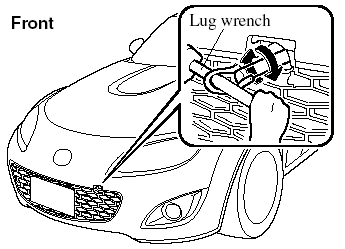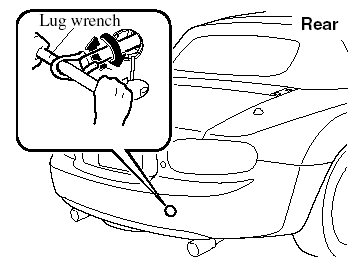 3. Securely install the tiedown eyelet using the lug wrench.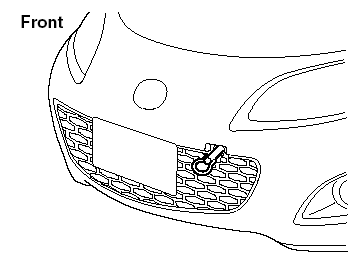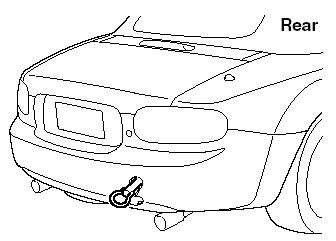 CAUTION:


If the tiedown eyelet is not securely
tightened, it may loosen or disengage from the bumper when tying down the vehicle. Make sure that the tiedown eyelet is securely tightened to the bumper.

Front tiedown hook is designed
only for towing, and lashing at oversea transportation. Do not use front tiedown hook for other use (truck/railway transportation etc).
See also:
Automatic Transaxle Fluid (ATF)
Inspecting Automatic Transaxle Fluid Level The automatic transaxle fluid level should be inspected regularly. Measure it as described below. 5AT CAUTION: Always check the automatic transaxle ...
Bottle Holder
Bottle holders are on the inside of the doors. CAUTION. Do not use the bottle holders for containers without caps. The contents may spill when the door is opened or closed. ...
Convenient Use of the Hands-Free System
Phonebook Usage Phonebook registration Phone numbers can be registered to the Bluetooth Hands-Free phonebook. 1. Activate Bluetooth Hands-Free. 2. Say: [Beep] "Phonebook". 3. Prompt: "Select one ...