Towing Description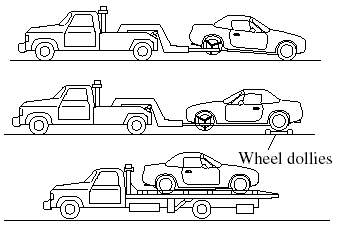 We recommend that towing be done only by an Authorized Mazda Dealer or a commercial tow-truck service.
Proper lifting and towing are necessary to prevent damage to the vehicle.
Government and local laws must be followed.
A towed vehicle usually should have its drive wheels (rear wheels) off the ground.
If excessive damage or other conditions prevent this, use wheel dollies.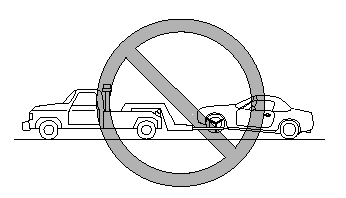 CAUTION:
Do not tow the vehicle pointed forward with driving wheels on the ground. This may cause internal damage to the transmission.
CAUTION:
Do not tow with sling-type equipment. This could damage your vehicle. Use wheel-lift or flatbed equipment.
See also:
Recreational Towing
An example of "recreational towing" is towing your vehicle behind a motorhome. The transaxle is not designed for towing this vehicle on all 4 wheels. When doing recreational towing refer to "Towi ...
Starting a Flooded Engine
If the engine fails to start, it may be flooded (excessive fuel in the engine). Follow this procedure: 1. If the engine does not start within five seconds on the first try, turn the key to the LO ...
Front Seats (Manually Operated Seats)
WARNING: Do not modify or replace the front seats: Modifying or replacing the front seats such as replacing the upholstery or loosening any bolts is dangerous. The front seats contain air bag c ...