Cup Holder
WARNING:
Never use a cup holder to hold hot liquids while the vehicle is moving: Using a cup holder to hold hot liquids while the vehicle is moving is dangerous. If the contents spill, you could be scalded.
Do not put anything other than cups or drink cans in cup holders: Putting objects other than cups or drink cans in a cup holder is dangerous.
During sudden braking or maneuvering, occupants could be hit and injured, or objects could be thrown around the vehicle, causing interference with the driver and the possibility of an accident. Only use a cup holder for cups or drink cans.
CAUTION:
To reduce the possibility of injury in an accident or a sudden stop, keep cup holders closed when not in use.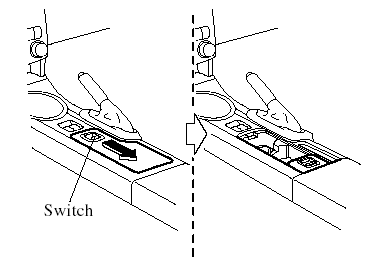 To open the cup holder lid, press the switch rearward and slide the lid open.
See also:
Warning and Beep Sounds
qSystem Malfunction Warning Beep If any malfunction occurs in the advanced keyless function, the KEY warning light (red) in the instrument cluster illuminates continuously and beep sounds will be ...
Seat Belt Precautions
Seat belts help to decrease the possibility of severe injury during accidents and sudden stops. Mazda recommends that the driver and all passengers always wear seat belts. All of the seat belt r ...
Starting a Flooded Engine
If the engine fails to start, it may be flooded (excessive fuel in the engine). Follow this procedure: 1. If the engine does not start within five seconds on the first try, turn the key to the LO ...