Cup Holder
WARNING:
Never use a cup holder to hold hot liquids while the vehicle is moving: Using a cup holder to hold hot liquids while the vehicle is moving is dangerous. If the contents spill, you could be scalded.
Do not put anything other than cups or drink cans in cup holders: Putting objects other than cups or drink cans in a cup holder is dangerous.
During sudden braking or maneuvering, occupants could be hit and injured, or objects could be thrown around the vehicle, causing interference with the driver and the possibility of an accident. Only use a cup holder for cups or drink cans.
CAUTION:
To reduce the possibility of injury in an accident or a sudden stop, keep cup holders closed when not in use.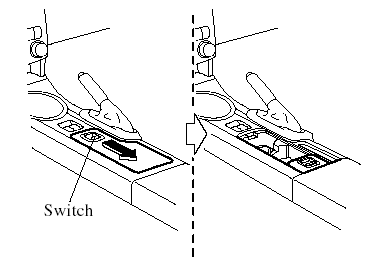 To open the cup holder lid, press the switch rearward and slide the lid open.
See also:
Vehicle Information Labels
Vehicle Identification Number The vehicle identification number legally identifies your vehicle. The number is on a plate attached to the cowl panel located on the left corner of the dashboard. ...
Body Lubrication
All moving points of the body, such as door and hood hinges and locks, should be lubricated each time the engine oil is changed. Use a nonfreezing lubricant on locks during cold weather. Make sur ...
Exterior & Interior
As is the case with many new Mazda models, the Mazda2 has a big, grinning grille opening. I like it on other Mazdas and I like it even more on the Mazda2, because the car is smaller. It looks like ...