Turn and Lane-Change Signals
qTurn Signal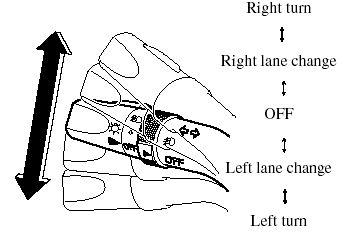 Move the signal lever down (for a left turn) or up (for a right turn) to the stop position. The signal will self-cancel after the turn is completed.
If the indicator light continues to flash after a turn, manually return the lever to its original position.
Green indicators on the dashboard show which signal is working.
Lane-change signals
Move the lever slightly toward the direction of the change ―until the indicator flashes― and hold it there. It will return to the off position when released.
NOTE:
If an indicator light stays on without flashing or if it flashes abnormally, one of the turn signal bulbs may be burned out.
See also:
Design: inheriting the Mazda 3's established identity while making it more expressive
The design concept for the new Mazda 3 was "remaining faithful to an inherited identity while evolving the design to make it more expressive." While retaining some of the original model' ...
Add-On Non-Genuine Parts and Accessories
Non-genuine parts and accessories for Mazda vehicles can be found in stores. These may fit your vehicle, but they are not approved by Mazda for use with Mazda vehicles. When you install non-genuin ...
Vehicle Overview
Mazda's larger, more powerful replacements for the departed Protege sedan and Protege5 hatchback went on sale in the 2004 model year. Built on the same platform as the Volvo S40, the compact, fron ...