Hood
WARNING:
Always check that the hood is closed and securely locked:
A hood that is not closed and securely locked is dangerous as it could fly open while the vehicle is moving and block the driver's vision which could result in a serious accident.
Opening the Hood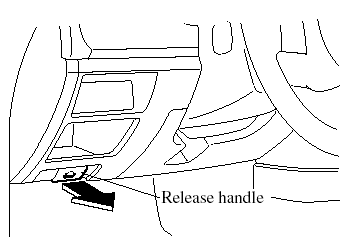 1. With the vehicle parked, pull the release handle to unlock the hood.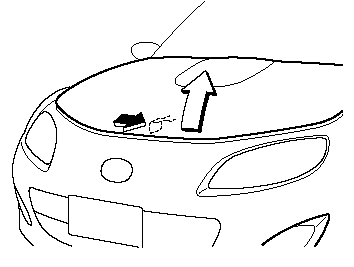 2. Insert your hand into the hood opening and slide the hood latch lever to the right and lift the hood.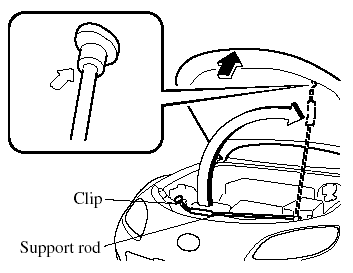 3. Grasp the support rod in the padded area and secure it in the stay hole indicated by the arrow to hold the hood open.
Closing the Hood
WARNING:
Do not leave items in the engine compartment:
After you have finished checking or doing servicing in the engine compartment, do not forget and leave items such as tools or rags in the engine compartment.
Tools or other items left in the engine compartment could cause engine damage or a fire leading to an unexpected accident.
1. Check under the hood area to make certain all filler caps are in place and all loose items (e.g. tools, oil containers, etc.) have been removed.
2. Insert the support rod in its clip while holding up the hood. Verify that the support rod is secured in the clip before closing the hood.
3. Close the hood so that it locks securely.
See also:
Rocking the Vehicle
WARNING: Do not spin the wheels at more than 56 km/h (35 mph), and do not allow anyone to stand behind a wheel when pushing the vehicle: When the vehicle is stuck, spinning the wheels at high sp ...
Driving Impressions
The easy-to-drive Mazda3 handles more adeptly than most rivals. The automatic transmission delivers quick, smooth responses. Performance with the larger engine falls short of some sporty compacts, ...
Registering Your Vehicle in A Foreign Country (Except United States and Canada)
Government regulations in your country could require that automobiles meet specific emission and safety standards. Vehicles built for your country may differ from those built for other countries. ...