SeatWarmer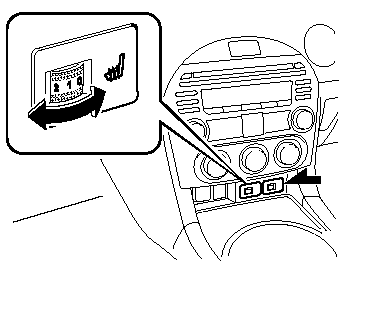 The driver and passenger seats can be warmed by rotating the applicable seat warmer dial while the ignition is switched ON.
The seat temperature increases as the number on the dial increases. When the seat warmers are not in use, rotate the seat warmer dials to 0.
WARNING:


Be careful when using the seat
warmer. The heat from the seat warmer may be too hot for some people, as indicated below, and could cause a low-temperature burn.

Infants, small babies, elderly
people, and physically
challenged people


People with delicate skin


People who are excessively
fatigued


People who are drunk


People who have taken sleepinducing
medicine such as
sleeping pills or cold medicine

Do not use the seat warmer with
anything having high moistureretention ability such as a blanket or cushion on the seat. The seat may be heated excessively and cause a low-temperature burn.

Do not use the seat warmer even
when taking a short nap in the vehicle. The seat may be heated excessively and cause a lowtemperature burn.

Do not place heavy objects with
sharp projections on the seat, or insert needles or pins into it. This could cause the seat to become excessively heated and result in injury from a minor burn.
CAUTION:
Do not use organic solvents to clean the seat. It may damage the seat surface and the heater.
NOTE:
Use the seat warmer when the engine is running, and do not continue to use it for a long period of time.
See also:
Scheduled Maintenance (USA, Canada, and Puerto Rico)
Follow Schedule 1 if the vehicle is operated mainly where none of the following conditions apply. - Repeated short-distance driving. - Driving in dusty conditions. - Driving with extended use of ...
Vehicle Overview
Mazda introduced a brand-new sedan in 2003 to replace its 626 model. Expected to rival European cars in ride and handling, the Mazda6 was built on an all-new platform. Developers used competitive ...
Money-Saving Suggestions
How you operate your Mazda determines how far it will travel on a tank of fuel. Use these suggestions to help save money on fuel and repairs. - Avoid long warm-ups. Once the engine runs smoothly, ...