Washer Fluid
InspectingWasher Fluid Level
WARNING:
Use only windshield washer fluid or plain water in the reservoir: Using radiator antifreeze as washer fluid is dangerous. If sprayed on the windshield, it will dirty the windshield, affect your visibility, and could result in an accident.
Using Washer Fluid Without Anti-freeze Protection in Cold Weather: Operating your vehicle in temperatures below 4 degrees C (40 degrees F) using washer fluid without anti-freeze protection is dangerous as it could cause impaired windshield vision and result in an accident. In cold weather, always use washer fluid with anti-freeze protection.
NOTE:
State or local regulations may restrict the use of volatile organic compounds (VOCs), which are commonly used as anti-freeze agents in washer fluid. A washer fluid with limited VOC content should be used only if it provides adequate freeze resistance for all regions and climates in which the vehicle will be operated.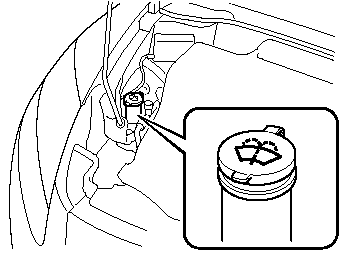 Inspect fluid level in the washer fluid reservoir; add fluid if necessary.
Use plain water if washer fluid is unavailable.
But use only washer fluid in cold weather to prevent it from freezing.
NOTE:
Front and rear washer fluid is supplied from the same reservoir.
See also:
Push-Starting
Do not push-start your Mazda. WARNING: Never tow a vehicle to start it: Towing a vehicle to start it is dangerous. The vehicle being towed could surge forward when its engine starts, causing the ...
AWord to Mazda Owners
Thank you for choosing a Mazda. We at Mazda design and build vehicles with complete customer satisfaction in mind. To help ensure enjoyable and trouble-free operation of your Mazda, read this ma ...
Head Restraints
* Some models. Head restraints are intended to help protect you and the passengers from neck injury. WARNING: Always drive with the head restraints installed when seats are being used and make ...