Automatic Transaxle Fluid (ATF)
Inspecting Automatic Transaxle Fluid Level
The automatic transaxle fluid level should be inspected regularly. Measure it as described below.
The volume of fluid changes with temperature. Fluid must be checked while idling the engine without driving at normal operating temperature.
CAUTION:


Low fluid level causes transaxle
slippage. Overfilling can cause foaming, loss of fluid, and transaxle malfunction.

Use specified fluid. A
nonspecified fluid could result in transaxle malfunction and failure.
1. Park on a level surface and set the parking brake firmly.
2. Start the engine and depress the brake pedal.
3. Move the shift lever through all ranges, then set it at P.
WARNING:
Make sure the brake pedal is applied before shifting the shift lever: Shifting the shift lever without first depressing the brake pedal is dangerous. The vehicle could move suddenly and cause an accident.
4. With the engine still idling, pull out the dipstick, wipe it clean, and put it back.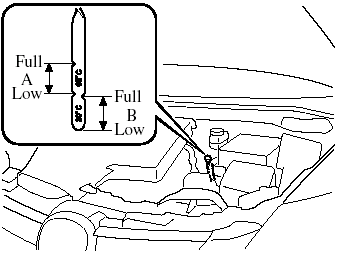 5. Pull it out again.
The proper fluid level is marked on the dipstick as follows.
Fluid hot scale A
When the vehicle has been driven and the fluid is at normal operating temperature, about 65°C (150°F), the level must be between Full and Low.
Fluid cold scale B
When the engine has not been running and the outside temperature is about 20°C (70°F), the fluid level should be close to, but not above, the bottom notch on the dipstick.
CAUTION:


Use the cold scale only as a
reference.

If outside temperature is lower
than about 20°C (70°F), start the engine and inspect the fluid level after the engine reaches operating temperature.

If the vehicle has been driven for
an extended period at high speeds or in city traffic in hot weather, inspect the level only after stopping the engine and allowing the fluid to cool for 30 minutes.
Fully insert the dipstick. When adding fluid, inspect with the dipstick to make sure it doesn't pass full.
NOTE:
Inspect the fluid on both sides of the dipstick in a well lit area for an accurate reading.
See also:
Interior
Inside, I can see fewer people loving the two-tone color scheme and sport-oriented layout of the dashboard. It screams more tech-geek-friendly than family-friendly, but the quality is certainly on ...
Windblocker
This windblocker reduces rear wind blast into the cabin when driving with the convertible top down. To use the windblocker, lift it upright. ...
Overview
Mazda CX-7 is one of the world's first production SUVs to combine a sporty design and driving experience with SUV practicality and roominess. Since its launch in 2006, this unique sports crossover ...