Tiedown Hooks
CAUTION:
Don't use the tiedown hooks under the front and rear for towing.
They are designed ONLY for tying down the vehicle when it's being transported. Using them for towing will damage the bumper.
Tiedown Hooks
1. Remove the tiedown eyelet, lug wrench, and jack lever from the trunk.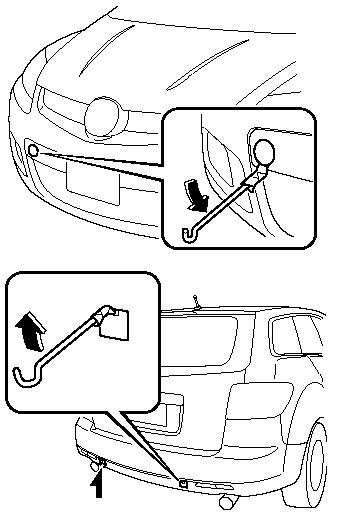 2. Wrap the jack lever with a soft cloth to prevent damage to the bumper and open the cap located on the front and rear bumper.
CAUTION:
The cap cannot be completely removed. Do not use excessive force as it may damage the cap or scratch the painted bumper surface.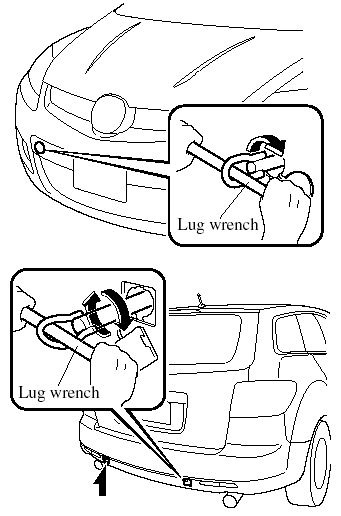 3. Securely install the tiedown eyelet using the lug wrench.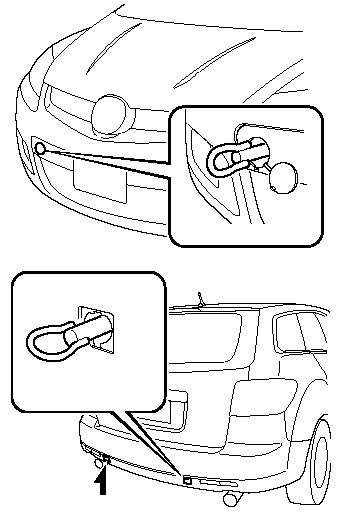 4. Hook the tying rope to the tiedown eyelet.
CAUTION:
If the tiedown eyelet is not securely tightened, it may loosen or disengage from the bumper when tying down the vehicle. Make sure that the tiedown eyelet is securely tightened to the bumper.
See also:
Introduction
Be extremely careful and prevent injury to yourself and others or damage to your vehicle when using this manual for inspection and maintenance. If you're unsure about any procedure it describes, w ...
Engine Coolant
Inspecting Coolant Level WARNING: Do not use a match or live flame in the engine compartment. DO NOT ADD COOLANT WHEN THE ENGINE IS HOT: A hot engine is dangerous. If the engine has been running ...
Specifications
Engine Electrical System *1 ex factory CAUTION: When cleaning the iridium plugs, do not use a wire brush. (2.5-liter engine) The fine particulate coating on the iridium alloy and platinum t ...