SeatWarmer
The front seats are electrically heated. The ignition must be in the ON position.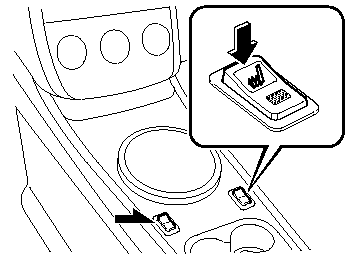 Press the switch to turn the seat warmer on or off. When the switch is in the ON position, the indicator light will come on.
WARNING:


Be careful when using the seat
warmer. The heat from the seat warmer may be too hot for some people, as indicated below, and could cause a low-temperature burn.

Infants, small babies, elderly
people, and physically
challenged people.

People with delicate skin.

People who are excessively
fatigued.

People who have taken sleepinducing
medicine such as.
sleeping pills or cold medicine

Do not use the seat warmer with
anything having high moistureretention ability such as a blanket or cushion on the seat. The seat may be heated excessively and cause a low-temperature burn.

Do not use the seat warmer even
when taking a short nap in the vehicle. The seat may be heated excessively and cause a lowtemperature burn.

Do not place heavy objects with
sharp projections on the seat, or insert needles or pins into it. This could cause the seat to become excessively heated and result in injury from a minor burn.
CAUTION:
Do not use organic solvents such as benzene or gasoline to clean the seat.
It may damage the seat surface and the heater.
NOTE:
Use the seat warmer when the engine is running, and do not continue to use it for a long period.
The temperature of the seat warmer cannot be adjusted because the temperature of the seat is controlled by the thermostat.
See also:
Roominess, Comfort and Seat Variability
The dynamic exterior of the Mazda CX9 is not achieved by sacrificing SUV comfort and seat flexibility. With one of the segment's longest wheelbases (2,875 mm), the Mazda CX9 offers space for a max ...
Power Steering
Power steering is only operable when the engine is running. If the engine is off or if the power steering system is inoperable, you can still steer, but it requires more physical effort. If the s ...
Service Publications
Factory-authorized Mazda service publications are available for owners who wish to do some of their own maintenance and repair. When requesting any of our publications through an Authorized Mazd ...