Rear Window Defroster
The rear window defroster clears frost, fog, and thin ice from the rear window.
The ignition must be switched ON.
Press the switch to turn on the rear window defroster. The rear window defroster operates for about 15 minutes and turns off automatically.
The indicator light illuminates during operation.
To turn off the rear window defroster before the 15 minutes has elapsed, press the switch again.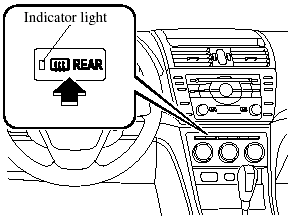 Fully Automatic Type Air-Conditioning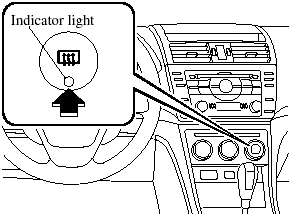 Manual Type Air-Conditioning
CAUTION:
Do not use sharp instruments or window cleaners with abrasives to clean the inside of the rear window surface. They may damage the defroster grid inside the window.
NOTE:
This defroster is not designed for melting snow.
If there is an accumulation of snow on the rear window, remove it before using the defroster.
Mirror Defroster
To turn on the mirror defrosters, switch the ignition ON and press the rear window defroster switch
NOTE:
For vehicles equipped with mirror de-fogging equipment,

is indicated on
each door
mirror.
See also:
Brake System
Foot Brake Your Mazda has power-assisted brakes that adjust automatically through normal use. Should power-assist fail, you can stop by applying greater force than normal to the brake pedal. But ...
Mazda CX-7 2008 review
Editor's note: For 2008, Mazda has made no significant changes to the CX-7, which debuted as a 2007 model. One bonus for buyers is that the engine has been modified to allow it to run on regular g ...
Automatic Transaxle Controls
Various Lockouts: Indicates that you must depress the brake pedal to shift (The ignition must be switched to ACC or ON). Indicates the shift lever can be shifted freely into any position. NO ...