Seat Belt Precautions
Seat belts help to decrease the possibility of severe injury during accidents and sudden
stops. Mazda recommends that the driver and all passengers always wear seat belts.
All of the seat belt retractors are designed to keep the lap/shoulder belts out of the way
when not in use.
The driver's seat belt has no provisions for child-restraint systems and has only an
emergency locking mode. The driver may wear it comfortably, and it will lock during a
collision.
However, the front passenger's seat and all rear lap/shoulder belt retractors operate in two
modes: emergency locking mode, and for child-restraint systems, automatic locking mode.
While we recommend you put all children in the rear seats, if you must use the front
passenger seat for a child, slide the front passenger seat as far back as possible and make
sure any child-restraint system is secured properly.
WARNING:
Always wear your seat belt and make sure all occupants are properly restrained: Not wearing a seat belt is extremely dangerous. During a collision, occupants not
wearing seat belts could hit someone or things inside the vehicle or even be thrown
out of the vehicle. They could be seriously injured or even killed. In the same collision, occupants wearing seat belts would be much safer.
Do not wear twisted seat belts: Twisted seat belts are dangerous. In a collision, the full width of the belt is not
available to absorb the impact. This puts more force on the bones beneath the belt,
which could cause serious injury or death.
Never use one seat belt on more than one person at a time: Using one seat belt for more than one person at a time is dangerous. A seat belt used in this way cannot spread the impact forces properly and the two passengers could be crushed together and seriously injured or even killed. Never use one belt for
more than one person at a time and always operate the vehicle with each occupant properly restrained.
Do not operate a vehicle with a damaged seat belt: Using a damaged seat belt is dangerous. An accident could damage the belt webbing of the seat belt in use. A damaged seat belt cannot provide adequate protection in a collision. Have an Authorized Mazda Dealer inspect all seat belt systems in use during an accident before they are used again.
Have your seat belts changed immediately if the pretensioner or load limiter has been expended:
One or both front air bags may deploy, and the corresponding pretensioner(s) may also deploy at the same time. Like the air bags, the seat belt pretensioners will only
function once. While it is safer to use a post-crash (a seat belt that was used in an
accident) than no seat belt at all, using a seat belt with an expended pretensioner or
load limiter loaded reduces the safety available to you. If the seat belt pretensioners
are not replaced, the risk of injury in a collision will increase. Expended seat belt
pretensioners and air bags must be replaced after any collision which caused them
to deploy. Additionally, the load limiter will only limit loads on the chest once in a
collision and this is another reason to have the front seat belts inspected. Always
have an Authorized Mazda Dealer inspect the seat belt pretensioners and air bags after any collision.
CAUTION:
Belt retraction may become difficult if the belts and rings are soiled, so try to keep
them clean. For more details about cleaning the seat belts, refer to "Cleaning the
Lap/Shoulder Belt Webbing".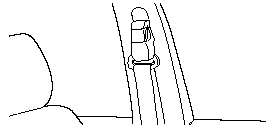 PregnantWomen and Persons with Serious Medical Conditions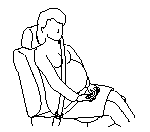 Pregnant women should always wear seat belts. Ask your doctor for specific recommendations.
The lap belt should be worn SNUGLYAND AS LOWAS POSSIBLE OVER THE HIPS.
The shoulder belt should be worn across your shoulder properly, but never across the
stomach area.
Persons with serious medical conditions also should wear seat belts. Check with your
doctor for any special instructions regarding specific medical conditions.
Emergency Locking Mode
In the emergency locking mode, the belt remains comfortable on the occupant and the
retractor will lock in position during a collision. When the seat belt is fastened, it will
always be in the emergency locking mode until it is switched to automatic locking mode by
pulling it all the way out to its full length. If the belt feels tight and hinders comfortable
movement while the vehicle is stopped or in motion, it may be in the automatic locking
mode because the belt has been pulled too far out. To return the belt to the more
comfortable emergency locking mode, wait until the vehicle has stopped in a safe, level
area, retract the belt fully to convert it back to emergency locking mode and then extend it
around you again.
If the belt is locked and cannot be pulled out, retract the belt once, and then try pulling it
out slowly. If this fails, pull the belt strongly one time and loosen, then pull it out again
slowly.
Automatic Locking Mode
Always use the automatic locking mode to keep the child-restraint system from shifting to
an unsafe position in the event of an accident. To enable seat belt automatic locking mode,
pull it all the way out and connect it as instructed on the child-restraint system. It will
retract down to the child-restraint system and stay locked on it. See the section on child
restraint.
See also:
Specifications
Technical information about your Mazda. ...
Maintenance and Care
How to keep your Mazda in top condition. ...
Engine Coolant
Inspecting Coolant Level WARNING: Do not use a match or live flame in the engine compartment. DO NOT ADD COOLANT WHEN THE ENGINE IS HOT: A hot engine is dangerous. If the engine has been running ...