SeatWarmer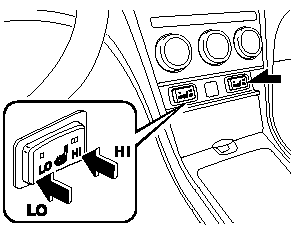 Press the HI or LO side of the seat warmer switch with the ignition is switched ON.
The indicator on the switch illuminates and the seat warms up.
If a higher temperature is preferred, press the HI side of the switch, and for a lower temperature, press the LO side.
When not using the seat warmer, set the switch to neutral with neither HI or LO depressed.
WARNING:


Be careful when using the seat
warmer. The heat from the seat warmer may be too hot for some people, as indicated below, and could cause a low-temperature burn.

Infants, small babies, elderly
people, and physically
challenged people.

People with delicate skin.

People who are excessively
fatigued.

People who are drunk.

People who have taken sleepinducing
medicine such as
sleeping pills or cold medicine.

Do not use the seat warmer with
anything having high moistureretention ability such as a blanket or cushion on the seat. The seat may be heated excessively and cause a low-temperature burn.

Do not use the seat warmer even
when taking a short nap in the vehicle. The seat may be heated excessively and cause a lowtemperature burn.

Do not place heavy objects with
sharp projections on the seat, or insert needles or pins into it. This could cause the seat to become excessively heated and result in injury from a minor burn.
CAUTION:
Do not use organic solvents to clean the seat. It may damage the seat surface and the heater.
NOTE:
Use the seat warmer when the engine is running, and do not continue to use it for a long period of time.
The temperature of the seat warmer cannot be adjusted beyond High and Low because the seat warmer is controlled by a thermostat.
See also:
Recreational Towing
An example of "recreational towing" is towing your vehicle behind a motorhome. The transmission is not designed for towing this vehicle on all 4 wheels. When doing recreational towing refer to "T ...
Antenna
Detachable Type To remove the antenna, turn it counterclockwise. To install the antenna, turn it clockwise. Make sure the antenna is securely installed. CAUTION. To prevent damage to the an ...
Suspension and Steering
The new Mazda Tribute retains the chassis system that delivers a superb combination of handling stability and ride comfort both on and off-road. The front suspension employs a MacPherson strut sys ...