Tiedown Hooks
CAUTION.
Don't use the tiedown hooks under the front and rear for towing.
They are designed ONLY for tying down the vehicle when it's being transported. Using them for towing will damage the bumper.
Tiedown Hook-Front
1. Remove the tiedown eyelet, lug wrench, and jack lever from the trunk.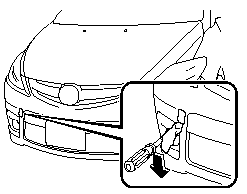 2. Wrap the jack lever with a soft cloth to prevent damage to the bumper and open the cap located on the front bumper.
CAUTION.
The cap cannot be completely removed. Do not use excessive force as it may damage the cap or scratch the painted bumper surface.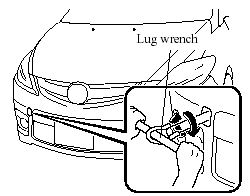 3. Securely install the tiedown eyelet using the lug wrench.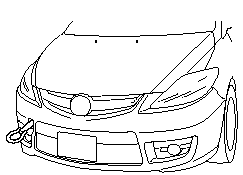 4. Hook the tying rope to the tiedown eyelet.
CAUTION.
If the tiedown eyelet is not securely tightened, it may loosen or disengage from the bumper when tying down the vehicle. Make sure that the tiedown eyelet is securely tightened to the bumper.
Tiedown Hooks-Rear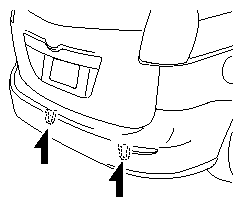 See also:
Lighting Control
Headlights Type A (Without AUTO position) Turn the headlight switch to turn the headlights, other exterior lights and dashboard illumination on or off. NOTE: To prevent discharging the batte ...
Door Locks
WARNING: Always take all children and pets with you or leave a responsible person with them: Leaving a child or a pet unattended in a parked vehicle is dangerous. In hot weather, temperatures in ...
Jump-Starting
Jump-starting is dangerous if done incorrectly. So follow the procedure carefully. If you feel unsure about jump-starting, we strongly recommend that you have a competent service technician do t ...