Exterior Overview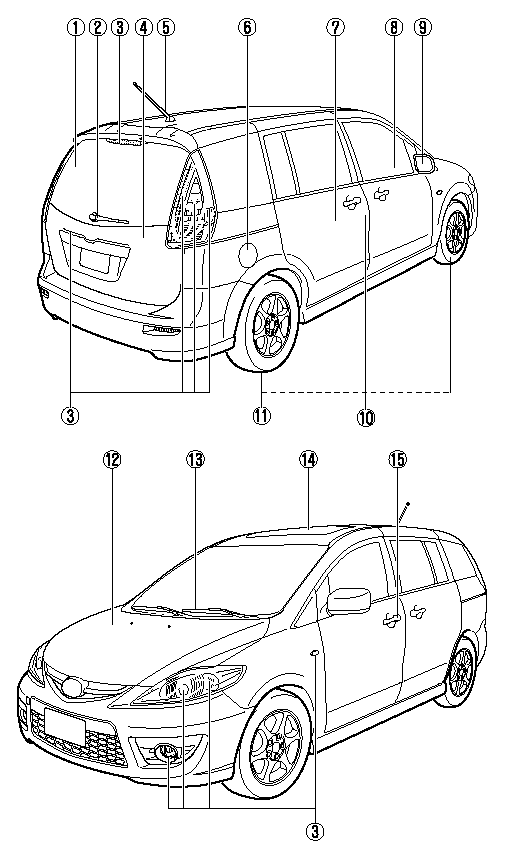 Exterior Overview

1 - Rear window defroster 2 - Rear wiper blade
3 - Light bulbs
4 - Liftgate
5 - Antenna
6 - Fuel-filler lid
7 - Sliding doors
8 - Power windows
9 - Outside mirror
10 - Child safety locks
11 - Tires
12 - Hood
13 - Windshield wiper blades 14 - Moonroof
15 - Doors and keys
See also:
Driving on Uneven Road
Your vehicle's suspension and underbody can be damaged if driven on rough/uneven roads or over speed bumps at excessive speeds. Use care and reduce speed when traveling on rough/uneven roads or ...
Basic Bluetooth Hands-Free Operation
Bluetooth Hands-Free Preparation Language setting English, Spanish, and Canadian French are available. If the language setting is changed, all of the voice guidance and voice input commands are d ...
Meters and Gauges
(Black-out meter) When the ignition is switched ON, the dashboard gauges illuminate. 1. Speedometer. 2. Odometer, Trip Meter and Trip Meter Selector. 3. Tachometer. 4. Engine Coolant Temperatur ...