Washer Fluid
InspectingWasher Fluid Level
WARNING:
Use only windshield washer fluid or plain water in the reservoir: Using radiator antifreeze as washer fluid is dangerous. If sprayed on the windshield, it will dirty the windshield, affect your visibility, and could result in an accident.
Using Washer Fluid Without Anti-freeze Protection in Cold Weather: Operating your vehicle in temperatures below 4 degrees C (40 degrees F) using washer fluid without anti-freeze protection is dangerous as it could cause impaired windshield vision and result in an accident. In cold weather, always use washer fluid with anti-freeze protection.
NOTE:
State or local regulations may restrict the use of volatile organic compounds (VOCs), which are commonly used as anti-freeze agents in washer fluid. A washer fluid with limited VOC content should be used only if it provides adequate freeze resistance for all regions and climates in which the vehicle will be operated.
Inspect fluid level in the washer fluid reservoir; add fluid if necessary.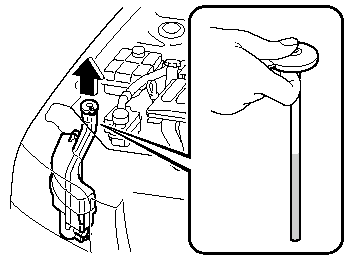 To inspect the washer fluid level in the front reservoir, pull off the cap. Then, holding your thumb over the hole in the center of the cap, lift it straight up. The fluid level can be seen from the fluid column in the pipe. Add fluid if necessary.
Use plain water if washer fluid is unavailable. But use only washer fluid in cold weather to prevent it from freezing.
NOTE:
Front and rear washer fluid is supplied from the same reservoir.
See also:
Functionality, Comfort & Equipment - Quieter and more Practical
Mazda 5 facelift retains all interior features that have made it so popular with families around the globe. Still onboard are its innovative Karakuri seating and storage system (see box), 45 stora ...
Interior Equipment (View B)
1 Audio control switch. 2 SRS air bags. 3 Cruise control switch. 4 Audio system. 5 Hazard warning flasher switch. 6 Climate control system. 7 Parking brake. 8 Seat warmer switches . 9 Power ...
Front
1. Hood. 2. Windshield wiper blades. 3. Moonroof. 4. Doors and keys. 5. Fuel-filler lid. 6. Tires. 7. Light bulbs. ...