Tiedown Hook
CAUTION:
Don't use the tiedown hook under the rear for towing.
It is designed ONLY for tying down the vehicle when it's being transported. Using it for towing will damage the bumper.
Tiedown Hook-Front
1. Remove the tiedown eyelet and the lug wrench from the trunk.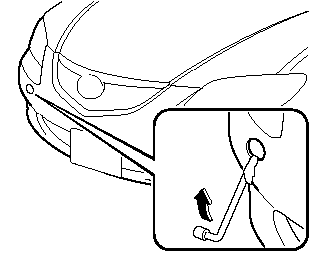 2. Wrap the lug wrench with a soft cloth to prevent damage to the bumper and open the cap located on the front bumper.
CAUTION:
The cap cannot be completely removed. Do not use excessive force as it may damage the cap or scratch the painted bumper surface.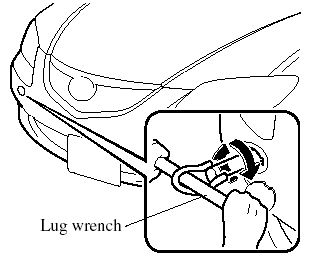 3. Securely install the tiedown eyelet using the lug wrench.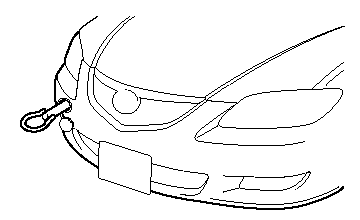 4. Hook the tying rope to the tiedown eyelet.
CAUTION:
If the tiedown eyelet is not securely tightened, it may loosen or disengage from the bumper when tying down the vehicle. Make sure that the tiedown eyelet is securely tightened to the bumper.
See also:
When Bluetooth Hands-Free Cannot be Used
Bluetooth Hands-Free cannot be used under the following conditions: - The device is outside of the communication area. - The device has a malfunction. - The device is not connected to the hands- ...
Tough, Elegant and Safe
Also premiering at the 74th Geneva Motor Show is a new face lifted version of Mazda's stylish and athletic sports utility vehicle (SUV) Mazda Tribute. Since its debut in 2000, Tribute has attracte ...
Exterior
For 2009, designers ditched the previous design for what Mazda calls a "Japanese aesthetic" in the current car. The vehicle sports a long hood with pronounced front fender flares that fl ...