Towing Description
We recommend that towing be done only by an Authorized Mazda Dealer or a commercial tow-truck service.
Proper lifting and towing are necessary to prevent damage to the vehicle.
Government and local laws must be followed.
A towed vehicle usually should have its drive wheels (front wheels) off the ground. If excessive damage or other conditions prevent this, use wheel dollies.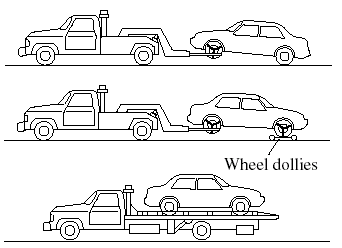 When towing with the rear wheels on the ground, release the parking brake.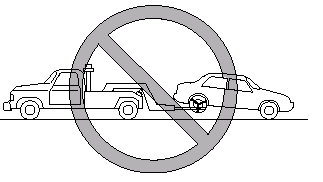 CAUTION:
Do not tow the vehicle pointed backward with driving wheels on the ground. This may cause internal damage to the transaxle.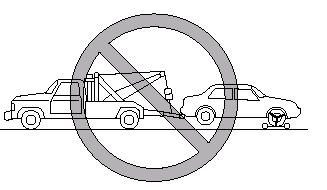 CAUTION:
Do not tow with sling-type equipment. This could damage your vehicle. Use wheel-lift or flatbed equipment.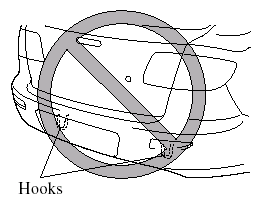 CAUTION:
Do not use the hooks under the rear bumper for towing and tying down, as they cannot hold the load and it will damage the bumper.
See also:
Перш ніж зробити вибір, добре подумайте!
Розповім вам вельми неприємну і водночас цікаву історію, яка трапилася з власником автомобіля Mazda 6. Для покупців автомобілів класу «преміум», до якого відноситься цей автомобіль, велике ...
Under the Hood
The Mazda3 i comes standard with a 148-horsepower, 2.0-liter four-cylinder engine that can team with a five-speed manual or five-speed automatic transmission. Mazda3 s models use a 167-hp, 2.5-lit ...
Supplemental Restraint System (SRS) Precautions
The front and side supplemental restraint systems (SRS) include up to 6 air bags. Please verify which kinds of air bags are equipped on your vehicle by locating the "SRS AIRBAG" location indicator ...