Mirrors
Outside Mirrors
Check the mirror angles before driving.
Mirror type
Flat type (driver's side).
Flat surface mirror.
Convex type (front passenger side).
The mirror has single curvature on its surface.
WARNING:
Be sure to look over your shoulder before changing lanes:
Changing lanes without taking into account the actual distance of the vehicle in the convex mirror is dangerous. You could have a serious accident. What you see in the convex mirror is closer than it appears.
Power mirror
The ignition switch must be in the ACC or ON position.
To adjust:
1. Move the selector switch to the left or right to choose the left or right side mirror.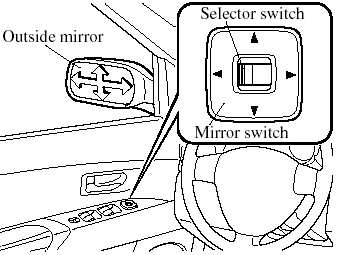 2. Depress the mirror switch in the appropriate direction.
After adjusting the mirror, lock the control by moving the selector switch to the middle position.
Manual control mirror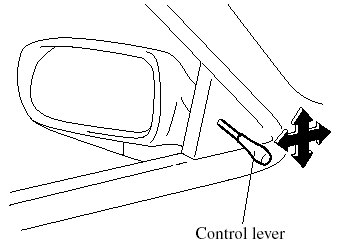 To adjust, move the mirror's control lever, just inside the door.
Folding the mirror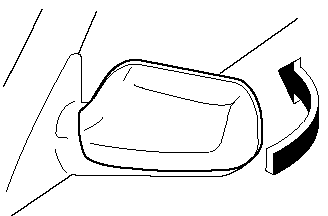 Fold the outside mirror rearward until it is flush with the vehicle.
WARNING:
Always return the outside mirrors to the driving position before you start driving:
Driving with the outside mirrors folded in is dangerous. Your rear view will be restricted, and you could have an accident.
Rearview Mirror
Rearview mirror adjustment
Before driving, adjust the rearview mirror to center on the scene through the rear window.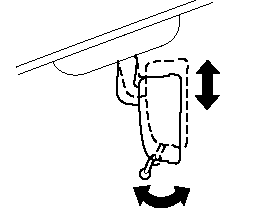 Type A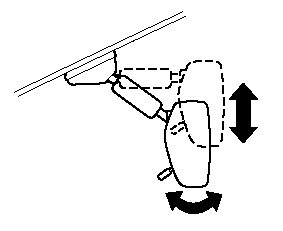 Type B
Reducing glare from headlights
Adjust the mirror with the day/night lever in the day position.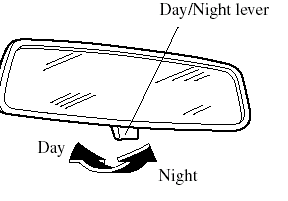 Push the lever forward for day driving.
Pull it back to reduce glare from headlights.
WARNING:
Do not stack cargo or objects higher than the seatbacks:
Cargo stacked higher than the seatbacks is dangerous. It can block your view in the rearview mirror, which might cause you to hit another car when changing lanes.
See also:
Fuel Requirements
Vehicles with catalytic converters or oxygen sensors must use ONLY UNLEADED FUEL, which will reduce exhaust emissions and keep spark plug fouling to a minimum. Your Mazda will perform best with fu ...
Limitations to SRS Air Bag
In severe collisions or roll-overs such as those described previously in "SRS Air Bag Deployment Criteria", the applicable SRS air bag equipment will deploy. However, in some accidents, the equi ...
Vehicle Information Labels
Vehicle Identification Number The vehicle identification number legally identifies your vehicle. The number is on a plate attached to the cowl panel located on the left corner of the dashboard. ...