Turn and Lane-Change Signals
qTurn Signal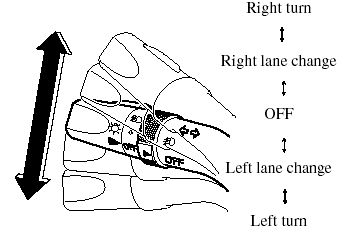 Move the signal lever down (for a left turn) or up (for a right turn) to the stop position. The signal will self-cancel after the turn is completed.
If the indicator light continues to flash after a turn, manually return the lever to its original position.
Green indicators on the dashboard show which signal is working.
Lane-change signals
Move the lever slightly toward the direction of the change ―until the indicator flashes― and hold it there. It will return to the off position when released.
NOTE:
If an indicator light stays on without flashing or if it flashes abnormally, one of the turn signal bulbs may be burned out.
See also:
Modestly Powered Base Engine
The base 161-horsepower, 2.5-liter four-cylinder provides acceptable performance in city and suburban settings. Acceleration is quick enough, letting you keep pace with traffic. Where the engine s ...
Fuel Requirements
Vehicles with catalytic converters or oxygen sensors must use ONLY UNLEADED FUEL, which will reduce exhaust emissions and keep spark plug fouling to a minimum. Your Mazda will perform best with fu ...