Lighting Control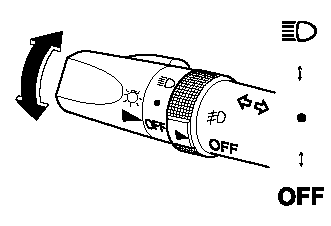 Headlights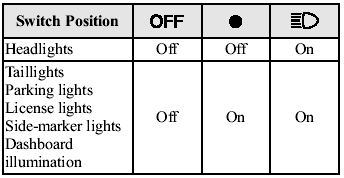 To turn on the lights, turn the headlight switch on the end of the control lever.
NOTE:
To prevent discharging the battery, don't leave the lights on while the engine is off unless safety requires them.
Xenon fusion headlight bulbs
The low-beam bulbs of the headlights have xenon fusion bulbs that produce a bright white beam over a wide area.
WARNING:
Do not replace the xenon fusion bulbs yourself:
Replacing the xenon fusion bulbs yourself is dangerous. Because the xenon fusion bulbs require high voltage, you could receive an electric shock if the bulbs are handled incorrectly. Consult an Authorized Mazda Dealer when the replacement is necessary.
NOTE:
If the headlights flicker, or the brightness weakens, the bulb-life may be depleted and a replacement is necessary. Consult an Authorized Mazda Dealer.
Lights-On Reminder
If lights are on and the key is removed from the ignition switch, a continuous beep sound will be heard when the driver's door is opened.
NOTE:
When the advanced keyless function is used and the start knob is in the ACC position, the Start Knob Not in Lock Warning Beep overrides the lights-on reminder.
Headlight High-Low Beam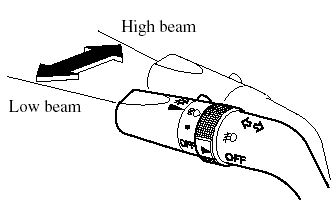 Push the lever forward for high beam.
Pull back to original position for low beam.
Flashing the Headlights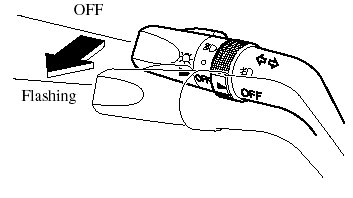 To flash the headlights, pull the lever fully toward you. The headlight switch does not need to be on, and the lever will return to the normal position when released.
Daytime Running Lights (Canada)
In Canada, vehicles must be driven with the headlights on during daytime operation.
For that reason, the daytime running lights automatically turn on when the ignition switch is turned to the ON position.
NOTE:
The Daytime Running Lights turn off when the parking brake is applied.
See also:
Owner Maintenance Precautions
Improper or incomplete service may result in problems. This section gives instructions only for items that are easy to perform. As explained in the Introduction, several procedures can be done onl ...
Parking in an Emergency
The hazard warning lights should always be used when you stop on or near a roadway in an emergency. The hazard warning lights warn other drivers that your vehicle is a traffic hazard and that the ...
New for 2011
An electronic stability system is now standard on all models. Beyond that, Mazda makes mostly minor changes to option packages after the 2010 redesign. ...