SeatWarmer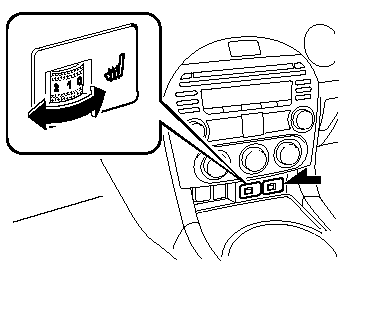 The driver and passenger seats can be warmed by rotating the applicable seat warmer dial while the ignition is switched ON.
The seat temperature increases as the number on the dial increases. When the seat warmers are not in use, rotate the seat warmer dials to 0.
WARNING:


Be careful when using the seat
warmer. The heat from the seat warmer may be too hot for some people, as indicated below, and could cause a low-temperature burn.

Infants, small babies, elderly
people, and physically
challenged people


People with delicate skin


People who are excessively
fatigued


People who are drunk


People who have taken sleepinducing
medicine such as
sleeping pills or cold medicine

Do not use the seat warmer with
anything having high moistureretention ability such as a blanket or cushion on the seat. The seat may be heated excessively and cause a low-temperature burn.

Do not use the seat warmer even
when taking a short nap in the vehicle. The seat may be heated excessively and cause a lowtemperature burn.

Do not place heavy objects with
sharp projections on the seat, or insert needles or pins into it. This could cause the seat to become excessively heated and result in injury from a minor burn.
CAUTION:
Do not use organic solvents to clean the seat. It may damage the seat surface and the heater.
NOTE:
Use the seat warmer when the engine is running, and do not continue to use it for a long period of time.
See also:
Cell Phones Warning
WARNING: Please comply with the legal regulations concerning the use of communication equipment in vehicles in your State or Province: Use of any electrical devices such as cell phones, computers, ...
Brake System
Foot Brake Your Mazda has power-assisted brakes that adjust automatically through normal use. Should power-assist fail, you can stop by applying greater force than normal to the brake pedal. But ...
Operation Using Advanced Keyless Functions
Operational Range The system operates only when the driver is in the vehicle or within operational range while the advanced key is being carried. NOTE: When the battery power is low, or in place ...