Fuel-Filler Lid and Cap
WARNING:
When removing the fuel cap, loosen the cap slightly and wait for any hissing to stop. Then remove it:
Fuel spray is dangerous. Fuel can burn skin and eyes and cause illness if ingested. Fuel spray is released when there is pressure in the fuel tank and the fuel cap is removed too quickly.
Before refueling, stop the engine, and always keep sparks and flames away from the filler neck:
Fuel vapor is dangerous. It could be ignited by sparks or flames causing serious burns and injuries.
Additionally, use of the incorrect fuel filler cap or not using a fuel filler cap may result in fuel leak, which could result in serious burns or death in an accident.
CAUTION:
Always use only a genuine Mazda fuel cap or an approved equivalent, available at an Authorized Mazda Dealer. The wrong cap can result in a serious malfunction of the fuel and emission control systems. It may also cause the check engine light in the instrument cluster to illuminate.
Fuel-Filler Lid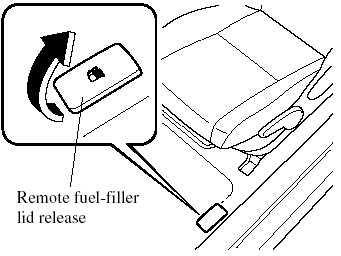 To open, pull up the remote fuel-filler lid release.
Fuel-Filler Cap
To remove the fuel-filler cap, turn it counterclockwise.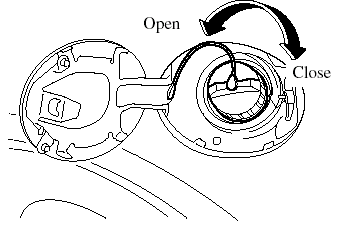 To close the fuel-filler cap, turn it clockwise until two or more clicks are heard.
CAUTION:
Make sure the fuel-filler cap is tightened securely. The check engine light may illuminate when the cap isn't tightened securely. If the light remains on (even after you have tightened the cap securely, driven, and restarted the engine several times), it may indicate a different problem. Contact an Authorized Mazda Dealer as soon as possible.
See also:
How to Minimize Environmental Paint Damage
The paintwork on your Mazda represents the latest technical developments in composition and methods of application. Environmental hazards, however, can harm the paint's protective properties, if ...
Under the Hood
The Mazda6 features a front and rear independent suspension. Four-cylinder and V-6 options are normal in this segment, but the standard six-speed manual transmission (with the four-cylinder) plays ...
Automatic Transaxle Controls
Various Lockouts: Indicates that you must depress the brake pedal to shift (The ignition switch must be in the ON position). Indicates the shift lever can be shifted freely into any position. ...